User Guide:
Renewable Energy Developers (Providers)
The following user guide will walk you through the Copacity platform, the value it provides to the renewable energy procurement process, and how to register and begin receiving and bidding on proposals.
Copacity is a secure web-based tool developed by industry experts on the three sides of the transaction: Clients (off-takers), Project Developers and Energy consultants/procurement professionals. The result is the premier platform tool that makes the process of renewable energy procurement not only efficient and effective, but comprehensive enough for executive level analysis and decision making.
The Copacity platform simplifies the identifying and sourcing new RFPs in the marketplace, while making the process of building and submitting RFP responses fast, efficient and effective.  No longer do you have concerns about meeting different RFP formatting and response requirements; no longer do you have to spend the time and effort in repeating the process of building and submission for different responses.  Once you complete your company and RFP profiles, Copacity takes care of the rest.
The Copacity platform allows for varied types of competitive bids. Public Requests for Proposals, Private Competitive Bids, Requests for Qualifications, Requests for Pricing, etc. You will notice across the platform the use of the acronym "RFX." This is used as a catch all for all types of procurements that any client/user may want to use on the platform.
New Developers must register on the Copacity platform in order to receive notifications about new opportunities, build your Company and RFX response database, respond to RFXs and communicate with Clients regarding their issued RFXs. Upon registration, the Copacity platform will review and approve your account, and you will then be able to immediately start building your profile, review available RFXs and crafting your responses.
To register on the platform, from the Home Page, simply click on the "Developer (Energy Provider) button under Registration.

After entering basic Registration information, Accept the Terms of Use and Privacy Agreement and then click "Submit."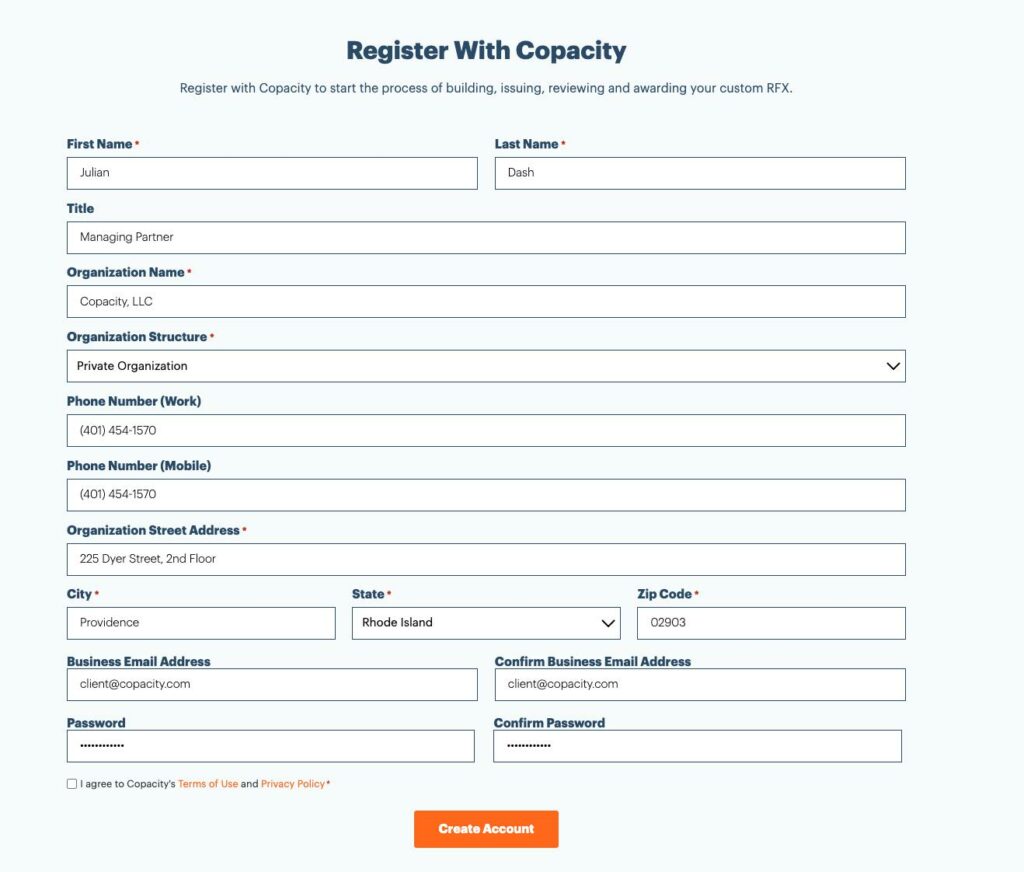 Once your complete registration, you will see receive a Thank You message, followed by an email notifying you that Copacity has received your Registration. Copacity will review and approve your Registration, which will also be confirmed via a confirmation email.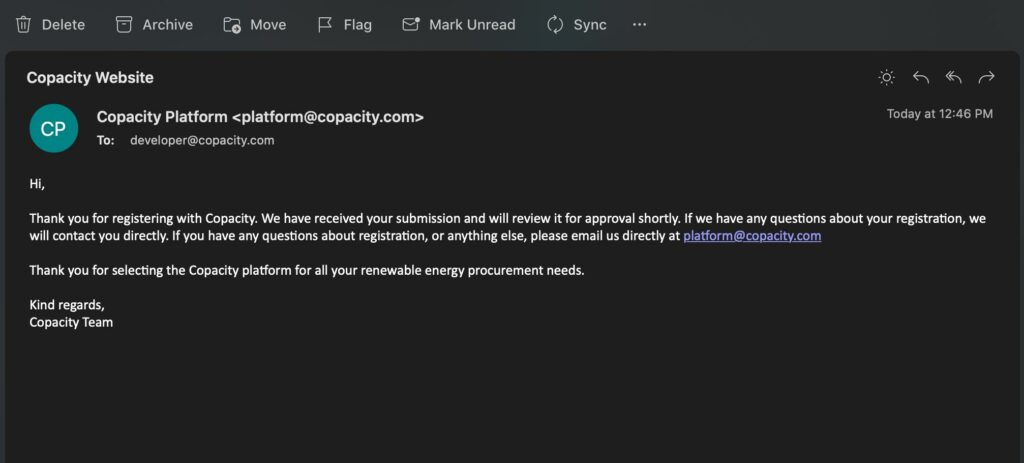 After Registration, you will need to start by completing your company information details. This section of the platform provides you the opportunity to detail all the information an RFX response would ever need to evaluate your company, team, experience, qualifications, etc.
In this section you'll be able to detail out your company overview, team members, insurance and bonding, references, etc.
And, for each data point of information, you will have the
At the end of each RFX completion, both full, confidential responses, along with redacted versions are provided to the Client. If (as pertains to public clients) there is ever a public records request, you can be assured that 1) your information is confidential and safe and 2) that a redacted version – as specified by your selections – is made available for these responses.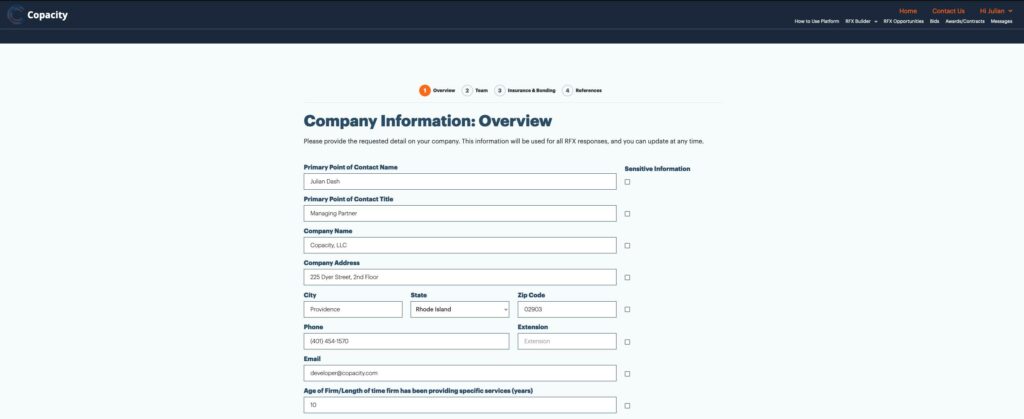 The RFX Builder is where you can build your Once you complete all the sections (as appliable)
Once you've completed your company details (which can be updated at any time), you can move on to the RFX Builder.  The RFX builder is where you can build all the details that may ever be needed for RFX opportunities that come available.  It provides you the opportunity to upload Company Information, Financial and Insurance Information, Project Experience and References, Project Pipeline and availability and other pertinent information.
Once you complete the RFX builder, you will be all set to readily and simply respond to RFXs.  There's no need to re-input or re-format, or otherwise spend additional time and resources to bid on RFXs.  All you will need to do is simply check off what information you want to include in each specific RFX.  
And the RFX builder is always customizable, editable and dynamic.  Do you use a different Company Overview or References depending on the type of client or organization you are respond to?  Not a problem.  Simply upload information that would be used for (example) a private sector client, and then another for (example) a municipal client.  The RFX Builder gives you all the flexibility and control to manage and customize your RFX responses.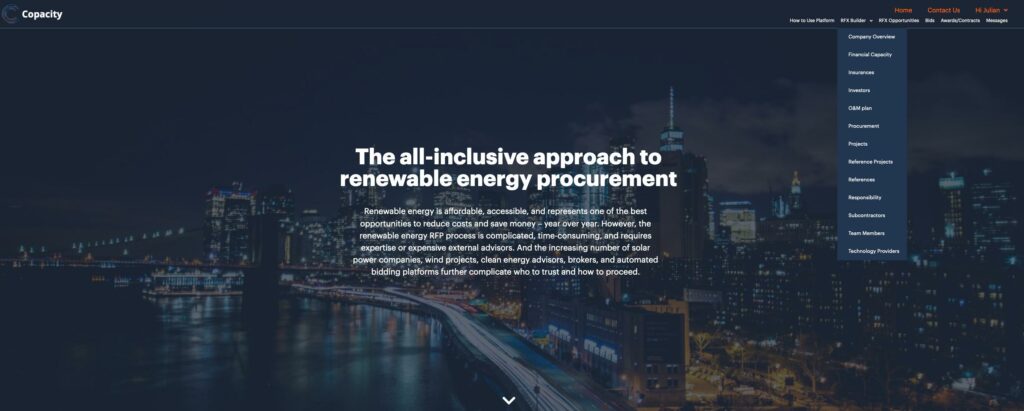 RFX Builder: Company Information Section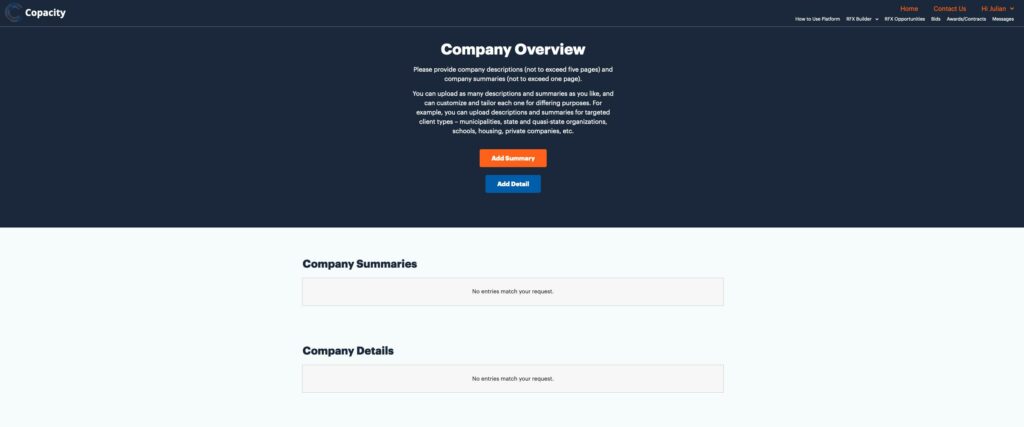 The Company Information Section outlines how the rest of the RFX Builder sections work. Here you can upload both your Company Summaries (1-page) and Company Details (5-page).

The RFX Builder allows you to add as many Company Summaries and Details and you want, so you may customize them for whatever type of RFX you are responding to (Municipal, Non-Profit, Private; Power Purchase Agreement, Net Meter Credit Agreement, Site Lease, etc.).
RFX Builder: Project Dashboard
Included in the RFX Builder section is the Project Dashboard section. This allows you to input the varied projects that you have available to bid into varied and as many RFXs you would like. Additionally, if the RFX calls for a new project to be sited on the Client site, you would simply incorporate the project details here.
RFX Builder: Project Dashboard

Simply use the "Create New Project" button and you'll be able to enter all the project details that you'd ever need to incorporate into an RFX response, and that any RFX reviewer will ever need.
Here you will be able to provide details (including uploading all supporting documentation) regarding your project, including Project Information, Technology, Components/Warranties, Siting Schedule, Zoning and Permitting, Utility Interconnection, Off-takers, Long-term ownership and O&M and Decommissioning plans.
RFX Builder: Project Details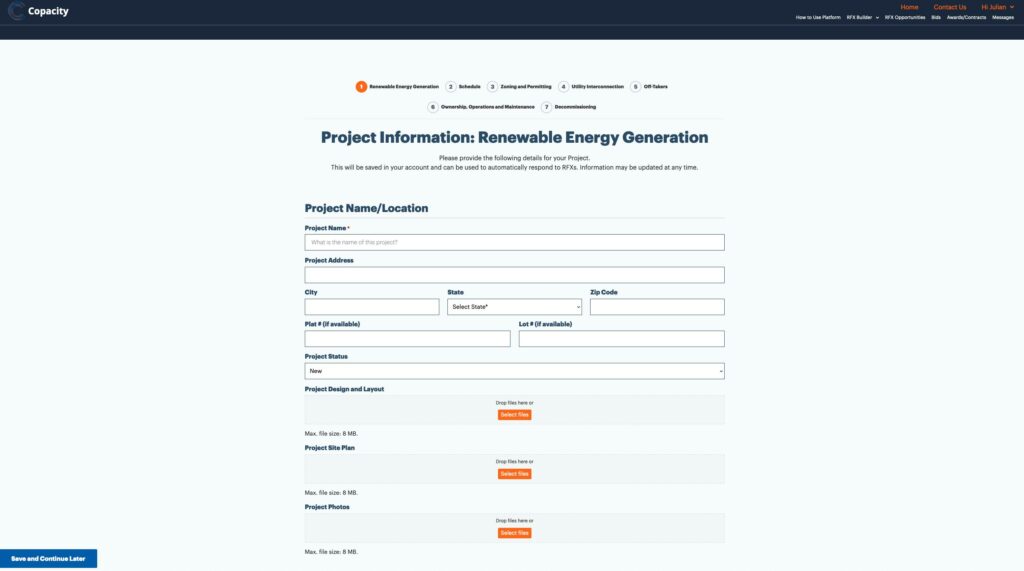 RFX Builder: Project Dashboard

Once completed, your new project will show up in your Project Dashboard, and will be available for submitting into RFX bids. You can add as many projects as you'd like and as always, can update/amend projects at any time.
And for RFX that require new projects – such as a Client on-site solar installation – you can simply add the details of your proposed new project here, and then use it to respond to the particular RFX.
RFX Opportunities and Bids
With your projects complete, you can move on to "RFX Opportunities" tab and see what is currently available for bidding, along with bid opportunities that are closed and still being evaluated, and bid opportunities that are closed and already awarded.


From here you can download the RFX, view its details and your submission (if already done so). After review, the Copacity platform allows for a simplified response process. Click on "View Details" to both download the RFX and submit your Bid.

RFX Bid Page: General and Pricing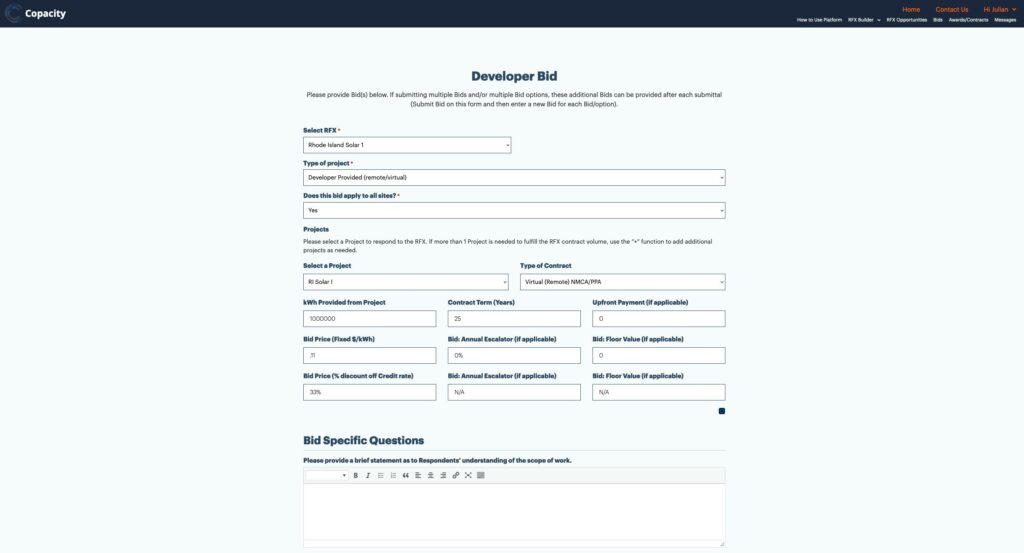 The first part in the RFX bid is to simply select what RFX you are responding to, what project you would like to submit in response and then your pricing information.
The Copacity platform allows you to submit multiple projects and/or multiple pricing options. Simply use the "+" function at the end of each bid section to add another bid type/response.
Following your primary bid information, you will then be guided through answering any specific questions the Client has related to their RFX and bid response request(s).
Following the General Bid information and RFX specific questions, you can now simply and easily build the specifics around your Bid: Company details and qualifications, experience, team members, subcontractors, references, reference projects, etc.
As you will see, all of the detail needed is pulled from your existing RFX Builder database. All of the information and options presented here will now be available for simple selection, and will automatically be pulled into the Copacity generated RFX response form.
For example, under Company Overview Summary, choose from the drop-down of all the options you've provided in order to apply the most applicable response. As another example, Team Members, for each specific RFX, you can choose which particular Team Members (from all that you uploaded in the RFX Builder section) to be included in each particular RFX response. Choose one, some or all – it's completely up to you. This process repeats itself for each RFX Bid section, allowing for the simple completion of your RFX Bid.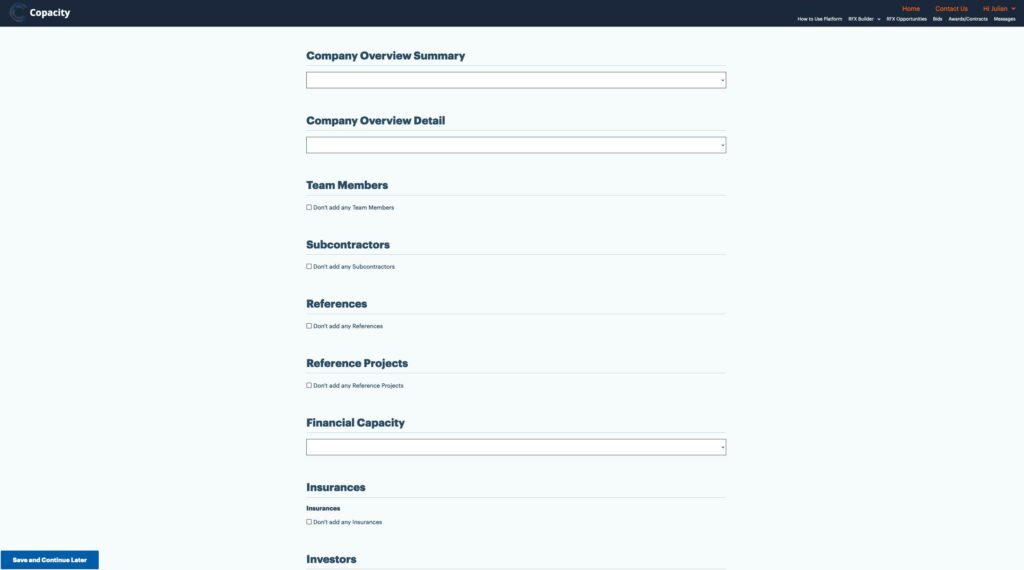 RFX Submission: Standardization
Once you submit your RFX Bid, the Copacity platform will automatically generate an RFX response. These response forms are completed uniformly for all RFX respondents. No need to worry about if the formatting of your response is – all response formats are provided to the Client in a consistent, clear and efficient way for review and evaluation. You are guaranteed a transparent and "apples to apples' comparison of your RFX Bid. The RFX Builder allows you to highlight the unique value(s), experience and fit for your firm to each RFX you respond to.
RFX Communications and Addendums
While the RFX is open, and after the closing date, the Client can communicate Respondents, including live and open Questions and Answers, along with the ability to issue Addendums, if needed:
This may include a Client seeking clarity on answers, requests for additional information, or even a "Best and Final" Bid offer. All the communications needed will be provided through the Communications function of the Copacity Platform.

Once the Client has completed its review, scoring and decision, the Client will make Award to one or more Respondent(s), while informing all other Respondents that the award has been made.
After Award is made, the Client will complete the RFX and the Copacity platform will facilitate the direct communication between Client and awarded Respondent.