Copacity Platform User Guide
Renewable Energy Client (Energy Users)
The following guide will introduce you to the Copacity platform and outline step by step how to register, developer and issue Requests for Proposals (pricing, bids, etc.) and navigate the review, analysis, communication, and award of procurements.
Copacity is a secure web-based tool developed by industry experts on the three sides of the transaction: Clients (off-takers), Project Developers and Energy consultants/procurement professionals. The result is the premier platform tool that makes the process of renewable energy procurement not only efficient and effective, but comprehensive enough for executive level analysis and decision making.
The Copacity platform simplifies the process for developing a custom, industry-expert, competitive bid for your organization, all while providing you with the insight, guidance and expertise needed to understand all of the components and why they matter.
Once your competitive bid is completed, the Copacity platform will manage the issuance into the marketplace, communications with potential respondents, bid submissions and the resulting analysis and reporting for organizational decision making.
The Copacity platform allows for varied types of competitive bids. Public Requests for Proposals, Private Competitive Bids, Requests for Qualifications, Requests for Pricing, etc. You will notice across the platform the use of the acronym "RFX." This is used as a catch all for all types of procurements that any client/user may want to use on the platform.
New Clients must register on the Copacity platform in order to develop, issue, review, communicate and contract with providers for your renewable energy RFX. Upon registration, the Copacity platform will review and approve your account, and you will then be able to immediately start drafting and issuing your own custom, automated RFXs.
To register on the platform, from the Home Page, simply click on the "Client (Energy User) button under Registration.

After entering basic Registration information, Accept the Terms of Use and Privacy Agreement and then click "Submit."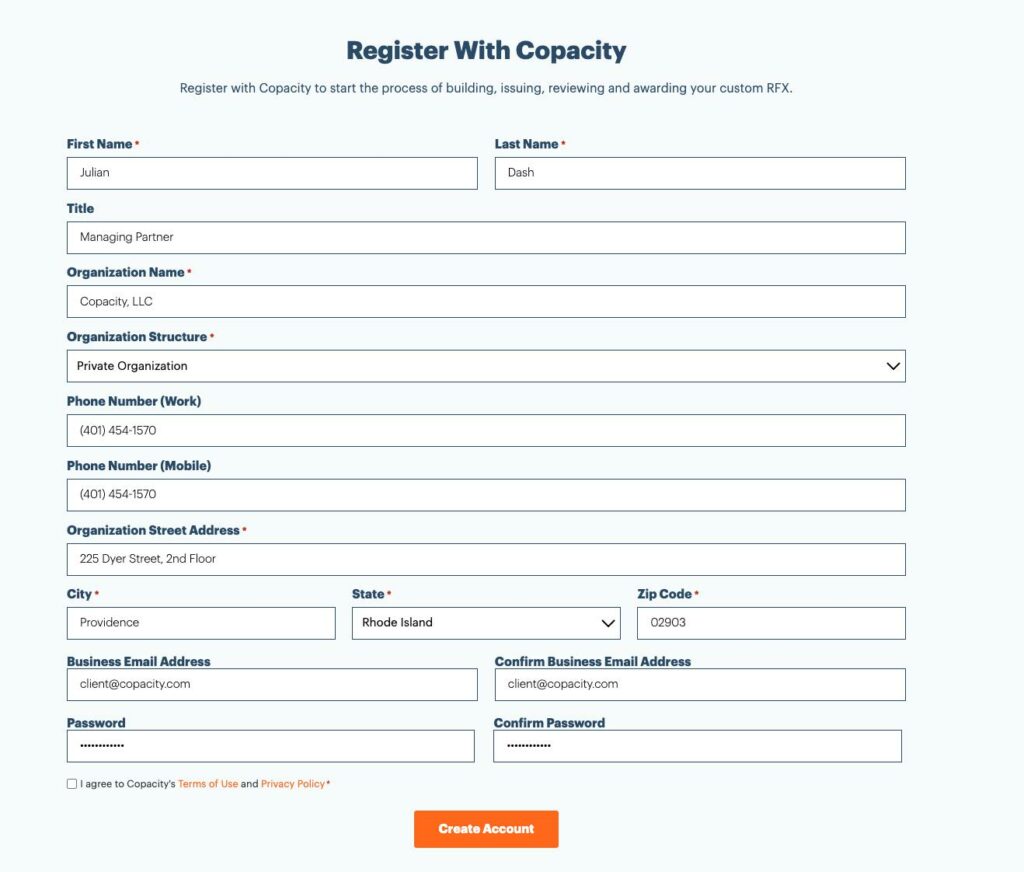 Once your complete registration, you will see receive a Thank You message, followed by an email notifying you that Copacity has received your Registration. Copacity will review and approve your Registration, which will also be confirmed via a confirmation email.


Once registered, you can now start creating RFXs. Simply click on the "Create Custom RFX" to start the process.

From here, you will be asked a step-by-step series on guided questions related to your organization, and base procurement questions (ex: procurement name, utility account and use information, type of project, type of procurement, public comments options, etc.).
The Copacity platform allows you to input as much or as little information as you need.  If you don't have specific information, or don't know the answer to a specific question – you can still move forward with completing your RFX.  After RFX submission is completed, the Copacity platform will generate your own custom RFX for review, comments, and edits.  If any missing information is needed for your RFX, the Copacity platform team will communicate with you for direction and clarity.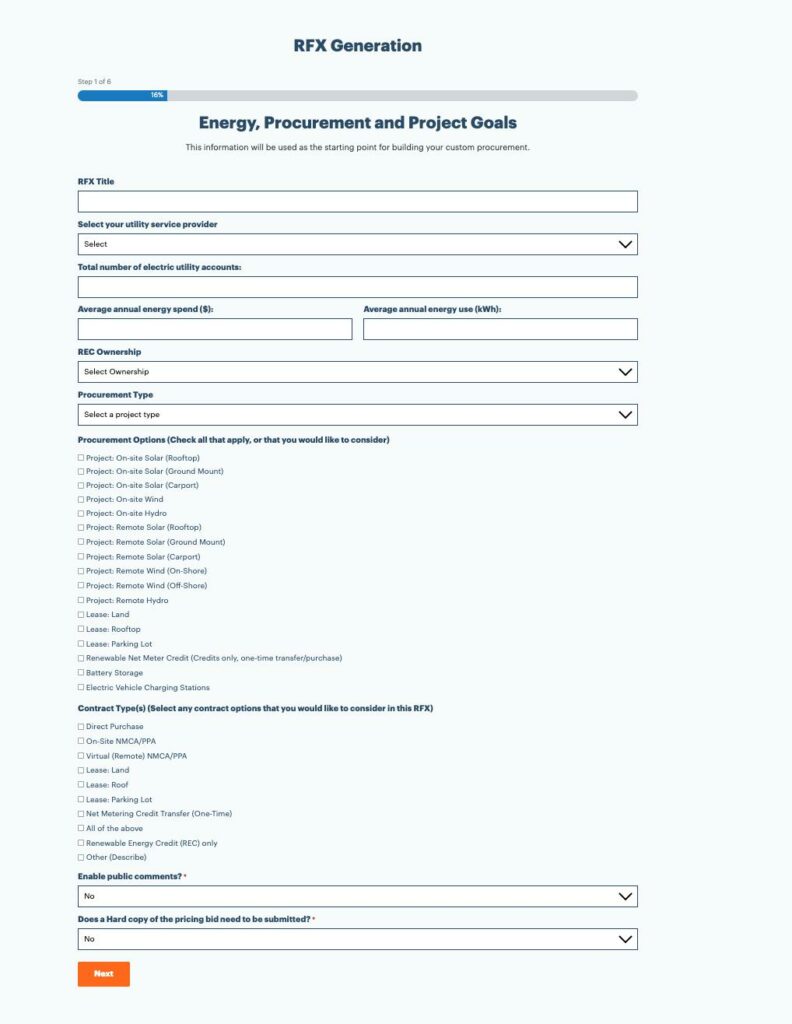 This initial step is followed by procurement questions related to:
RFX Goals
RFX Description
Procurement Team
RFX distribution and publication
Unique RFX GOALS
Unique RFX REQUIREMENTS
RFX Due Diligence and Evaluation factors
Scheduling
Scoring Factors
Client upload documents (ex: utility bills, Client standard RFX language and documents, etc.).
Once these steps are completed, click "Submit" and the Copacity platform will utilize all the information provided to generate your own custom, automated RFX.
RFX Generation: Attachments and other organizational details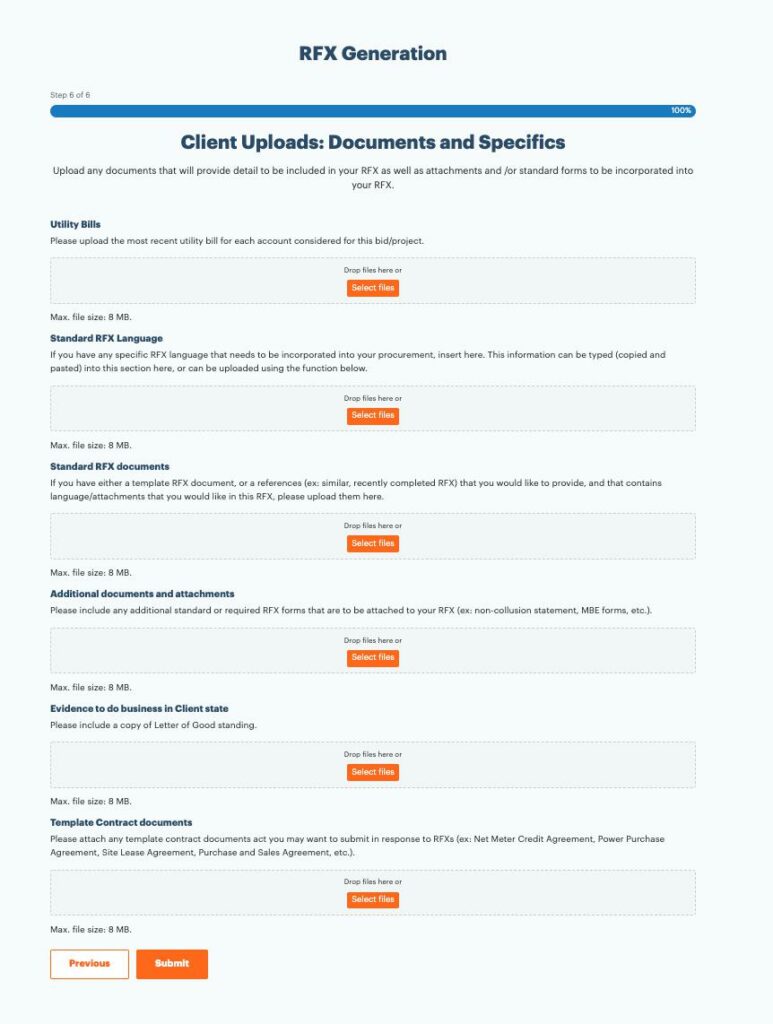 The draft RFX will show up in the Clients RFX page:

Within 48 hours, Client will receive its customized draft RFX from the Copacity platform.  Client will click on "View Details" to see the draft RFX and all other documents, reviews and analysis related to the RFX: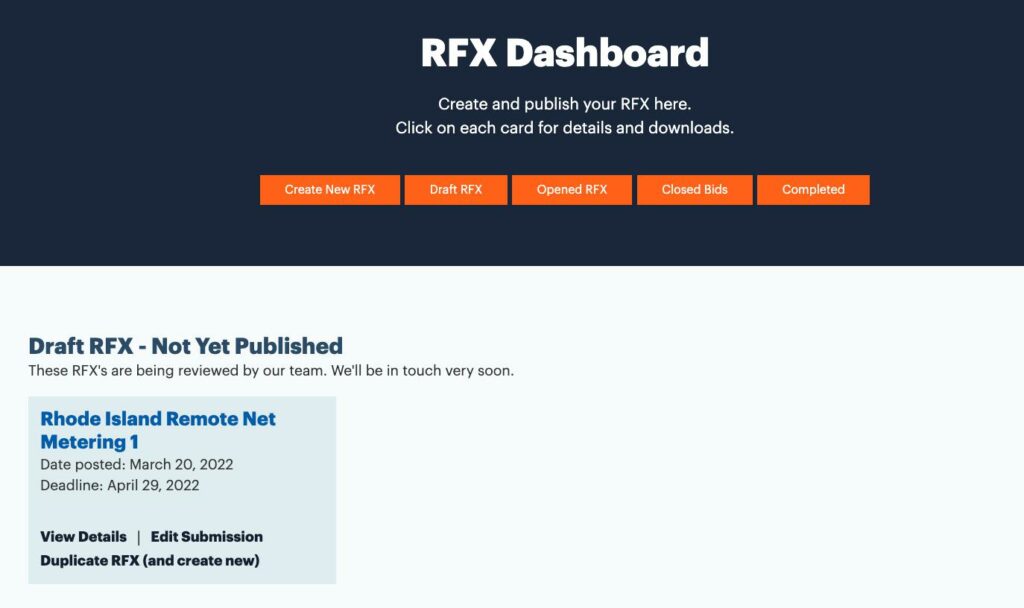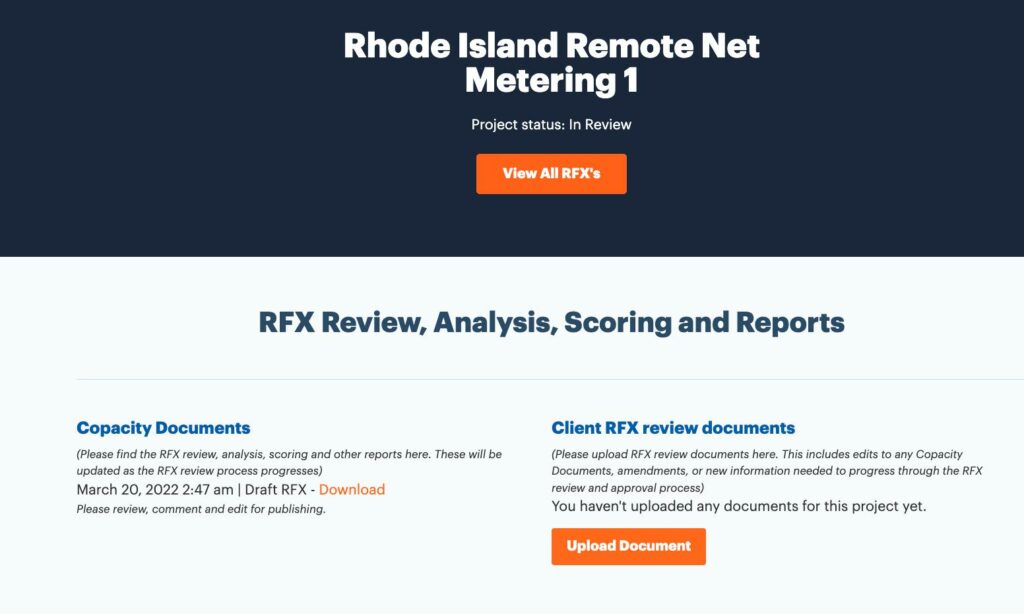 Once Client has downloaded, reviewed, and commented its' draft RFX, it can upload a final version to the Copacity platform. From there, Client is ready to authorize Copacity to finalize and publish the RFX. The RFX will be distributed to:
Client, via a PDF document, that can be uploaded to the Clients' website and available for Client to send directly to any specific publishing organization (ex: local paper), specific potential respondents, any anyone else of interest.
Client-directed recipients: In the RFX generation process, the Client has the ability to list all individuals/organizations that it would like the Copacity platform to automatically send to.
Copacity platform users: The Copacity platform will distribute the RFX to its expansive network of potential RFX respondents.
RFX Communications and Addendums
While the RFX is open, Client can communicate with potential Respondents, including live and open Questions and Answers, along with the ability to issue Addendums, if needed: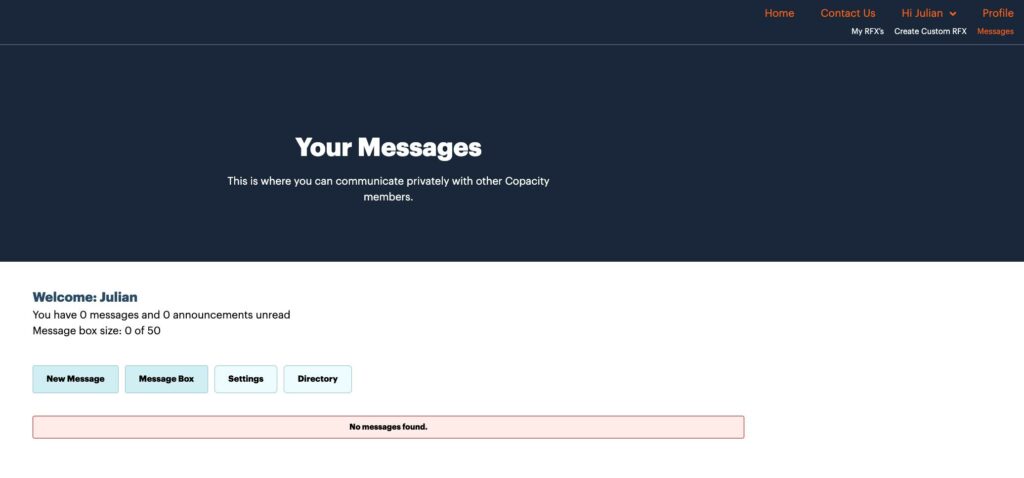 RFX Responses, Reviews and Analysis
Once the RFX closed (reaches the closing date), it will be closed and no longer open for bidding from potential Respondents.
Following the closing date, Client will receive email(s) when RFX reviews, reports and analysis are complete. Client will use this information
During this stage, Client will be able to utilize the "Message" function of the Copacity platform in order to communicate with Respondents. This could include matters such as:
Requesting clarification
Requesting additional information
Scheduling Interviews
Requesting "Best and Final Offers"
All other communication, information needed by Client from Respondent
All of this information is found under the "View Details" function of the RFX card: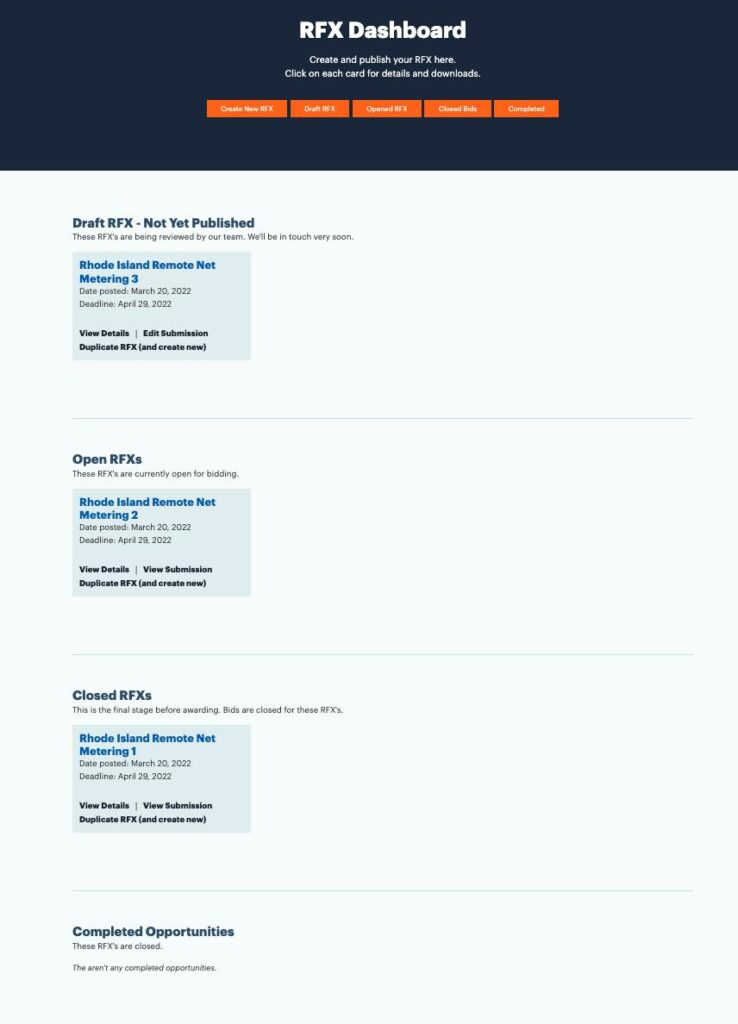 Once Client has completed its review, scoring and decision, Client can make Award to one or more Respondent(s), while informing all other Respondents that the award has been made.
After Award is made, Client can complete the RFX. This moves the RFX to "Completed Opportunities" and it will no longer be active. However, Client will always have access to RFX for future reference, needs, etc.