Aligning clean energy buyers, sellers and advisors
Make the procurement process easy, efficient and cost-effective for all
Copacity is the only trilateral ecosystem for procuring clean energy. Typical procurements are often one-sided with misaligned goals, leading to transactions that are overly bureaucratic, prolonged and costly. Copacity solves this as the first and only platform to simultaneously and comprehensively align the interests of all procurement participants – in a simplified, user-friendly site.
Looking to procure clean energy projects
Looking respond to competitive bids
Looking to streamline the procurement process for clients
Reduce Costs. Save Time. Increase Clean Energy Opportunities.
Whether you are a private company, public agency, school, or non-profit, the Copacity platform provides your team with all the tools and analysis needed to run comprehensive renewable energy procurements in-house using our customizable renewable RFP templates.
The Copacity platform is suited for all renewable energy procurement options: solar power, wind energy, hydro, RECs, EV charging stations, battery storage, and remote net metering.
After representing hundreds of MW of clean energy procurement for its energy buyer clients, Copacity realized there was a better, more efficient way for clients to procure clean energy. Regardless of industry, size or project type,
Copacity was developed to provide those seeking clean energy with a simple yet detailed platform to easily and effectively generate clean energy RFPs, manage communications, receive sophisticated response and evaluations, to support you organizations' review and selection process, and to ensure you contract the best renewable energy option tailored to your organization's goals and needs.
This detail and expertise will allow your team to confidently present to your organizational decision-makers, and will stand up to all the rigors of board-level scrutiny and evaluation, resulting in approval and successful renewable energy contracts.
In short, we guarantee that if the process is not more efficient and effective, resulting in reduced transaction time and greater utility savings, we do not charge. Ever.
Renewable Energy Developers
Copacity was created in response to its founders receiving, reviewing, and analyzing hundreds of renewable energy RFP responses. One of the greatest challenges organizations face in receiving competitive solar energy RFP bids is finding a simple means to compare multiple complex proposals on an "apples to apples" basis. As a result, we have seen clean energy developers often miss out on bid awards due to matters other than merit, with inconsistencies across competing proposals often being the biggest culprit.
Clean energy developers partner with Copacity to simplify their solar energy RFP response process and ensure that the best aspects of your proposal are presented clearly and consistently. Through the platform, developers can simply upload all the information a client would ever seek from a potential clean energy RFP. Once uploaded, when an RFP is issued, you only need to focus on providing your economic bid, while all of the other technical information you want supporting your proposal is simply selected from your dashboard saving time and streamlining your solar energy bidding process
And for the client – they receive all competing bids and bidder information in a consistent, standard package allowing them to have a true "apples to apples" comparison and focus on your qualifications and bid rather than figuring out how to organize, compare and otherwise evaluate across multiple complex responses. Not only does this allow for your company to shine every time, but makes the RFP review and selection process much more efficient and timely.
The Copacity team has served as the external consultant, procuring hundreds of MW of clean energy projects across solar, wind, hydro, carport, battery storage and more. This experience and expertise led us to develop this platform and support energy advisors in providing additional value added services to and for their clients. Our platform will not only streamline the clean energy procurement process, but will increase access to new clients, reach more projects for consideration and because of our market reach, ensure you are receiving the best and most dynamic pricing for your clients.
Copacity understands clients' needs for a transparent, well documented and robust analysis when procuring these large capital investments and long-term contracts. Whether it's a public Request for Proposal or a Private Competitive Bid, the Copacity platform partners specifically with energy consultants advisors and brokers to streamline your clean energy procurement process and provide you with the end-to-end procurement solution that reduces risk, streamlines your process, and delivers reports, analysis and recommendations that stand the test of scrutiny. As a result, you have a more streamlined process that increases both your sales and margins.
Market insight and solutions
Copacity has successfully procured clean energy for corporations, municipalities, non-profits, affordable, and public housing organizations. These clients have partnered with large, national renewable energy installers, down to local smaller firms with unique expertise.
However, the Copacity platform is for more than just procurement. It is your eyes and ears into the marketplace and all the latest clean energy technology trends, battery storage opportunities, climate change policies, and solar power incentives that shape it.
These insights can lead to smarter decisions for buyers in determining what is the right technology and deal structure, and for project developers in how to best position their projects and proposal offerings.
As the renewable energy industry evolves, Copacity evolves with it and for you. The Copacity team knows what it takes to procure clean energy and tailor contracts and projects that meet very specific needs and goals. We've seen it all, welcome the coming changes, and stand ready to ensure continued alignment to make procuring clean energy easy, efficient and cost-effective for all.
CLICK EACH STEP BELOW TO SEE THE 10 STEPS TO ENERGY SAVINGS
CLIENT
Registration with Copacity

Starting to use the Copacity platform requires a simple registration. Here we will learn a little about you and your organization, any stakeholders, your electricity usage, and renewable energy interests and goals. You will also gain access to Copacity's insight and tutorials to guide you through the complete renewable energy RFP, and review process.

Create Your Clean Energy RFP

You can generate your own RFP at your convenience and pace using our customizable renewable RFP template. The Copacity platform guides you to ensure we capture all critical RFP components, including the descriptions, goals, procurement team, due diligence, evaluation factors, scheduling, and scoring factors.
Once completed, you can provide as much customization as you need, including incorporating specific RFP language, attachments, or other unique requirements by your organization. You have many options to choose from including onsite or offsite solar PPAs, solar land leases, virtual net metering wind projects, REC contracts, EV charging stations, and more.

Draft of Solar Energy RFP

Once you complete the initial RFP generation process, the Copacity team will automatically generate a draft RFP for your organization's review, edits, and comments. You will be able to send draft RFPs back and forth through the Copacity platform until it is complete. The resulting renewable energy RFP is not simply automated, but rather it automates the customized version of your solar RFP, tailored for the unique and specific needs and wants of your organization.

Issue Your RFP

Once you approve the renewable energy RFP, the Copacity platform will provide you with your version of the RFP to post on your own site and distribute within your distribution list. The Copacity platform will provide you with an RFP to post on your own site and automatically send the RFP out to the largest source of qualified renewable energy professionals in the marketplace. We guarantee that this RFP process will meet all public and private competitive bidding requirements.

Manage Communications

During the RFP open response period, the Copacity platform enables you to communicate with potential respondents. Whether there are questions and answers regarding the RFP, addendums to be issued, or any other communication needs, all this is done through the RFP communication page. Further, you can make any or all communications public (particularly valuable for public agencies) or private.

Solar Energy RFP Responses, Reviews, and Analysis

The Copacity platform will automatically compile responses into a series of straightforward reports with analysis. In addition to respondent information and pricing, you have access to all insights you need to evaluate responses.
The Copacity report and analysis will provide you with all the technical understanding you need to thoroughly compare and evaluate responses. This includes clarification on project siting, clean energy production, off-takers, zoning, permitting, utility interconnection, detail on the installation company background, references, experience, insurances, and management plans.

Solar Power RFP Award

After your review and analysis, you can make awards to one or multiple RFP respondents. This can be managed directly through the Copacity platform, providing both the awarded respondents with notifications, along with notifying renewable energy developers who were not selected.

Negotiate Terms and Conditions

After the award, the Copacity platform provides industry-best contract templates that suit your contract needs. These template documents are sent to the awarded respondents and are used as the starting point for contract negotiations and finalization. And because the contracts are generated by the client, and have been vetted and accepted in the marketplace, this prevents long contract negotiations.

Issue Renewable Energy Contracts

With successful contract negotiations completed, the Copacity platform facilitates the communication and coordination for final contract execution and commencement of project relationship directly between client and project developer(s).

On-Demand: Anytime, All the time

At any time before, during, and after the client RFP process, Copacity provides you with access to our team of experts to answer any of your questions, provide clarifications, and offer general support, so you feel 100% confident in the process, diligence, analysis, and recommendations. This process ensures you will be prepared for board room review, inquiry, and approval.
DEVELOPER
MUNICIPALITIES
EDUCATION
AFFORDABLE HOUSING
NON - PROFITS
PUBLIC HOUSING
CORPORATIONS
MUNICIPALITIES
MUNICIPALITIES
Today, more than ever, cities and towns are exploring how renewable energy can stabilize and reduce energy costs. With many clean energy policies focused at the local and state levels, municipalities can take advantage of numerous renewable energy programs and solar energy incentives that maximize energy savings.
However, as if navigating the renewable energy market was not complex enough, public procurement and contracting provisions can further complicate the process.
Copacity partners with municipalities and assists in planning and procuring public renewable energy projects, often leveraging public-private solar partnerships. This approach involves all stakeholders – internal and external – providing a simple competitive solar bidding process with transparency and open competition among qualified developers. Thus, the Copacity platform helps municipalities lower operating expenses with solar energy leases, municipal Power Purchase Agreements (PPAs), and public remote net metering.
The Copacity process has delivered results for both onsite solar and offsite wind projects. Their process helped to deliver a $0 cost, below-market PPA; $700,00 in grant funds; $21MM in wind turbine funding and an above-market long-term REC contract. With Copacity's expertise, West Warwick has become the first 100% renewable-powered municipality in the state, saving over $1MM annually. I fully endorse Copacity and their comprehensive approach and expertise.
Frederick J. Presley Fmr. Town Manager, West Warwick, RI
EDUCATION
AFFORDABLE HOUSING
NON - PROFITS
PUBLIC HOUSING
CORPORATIONS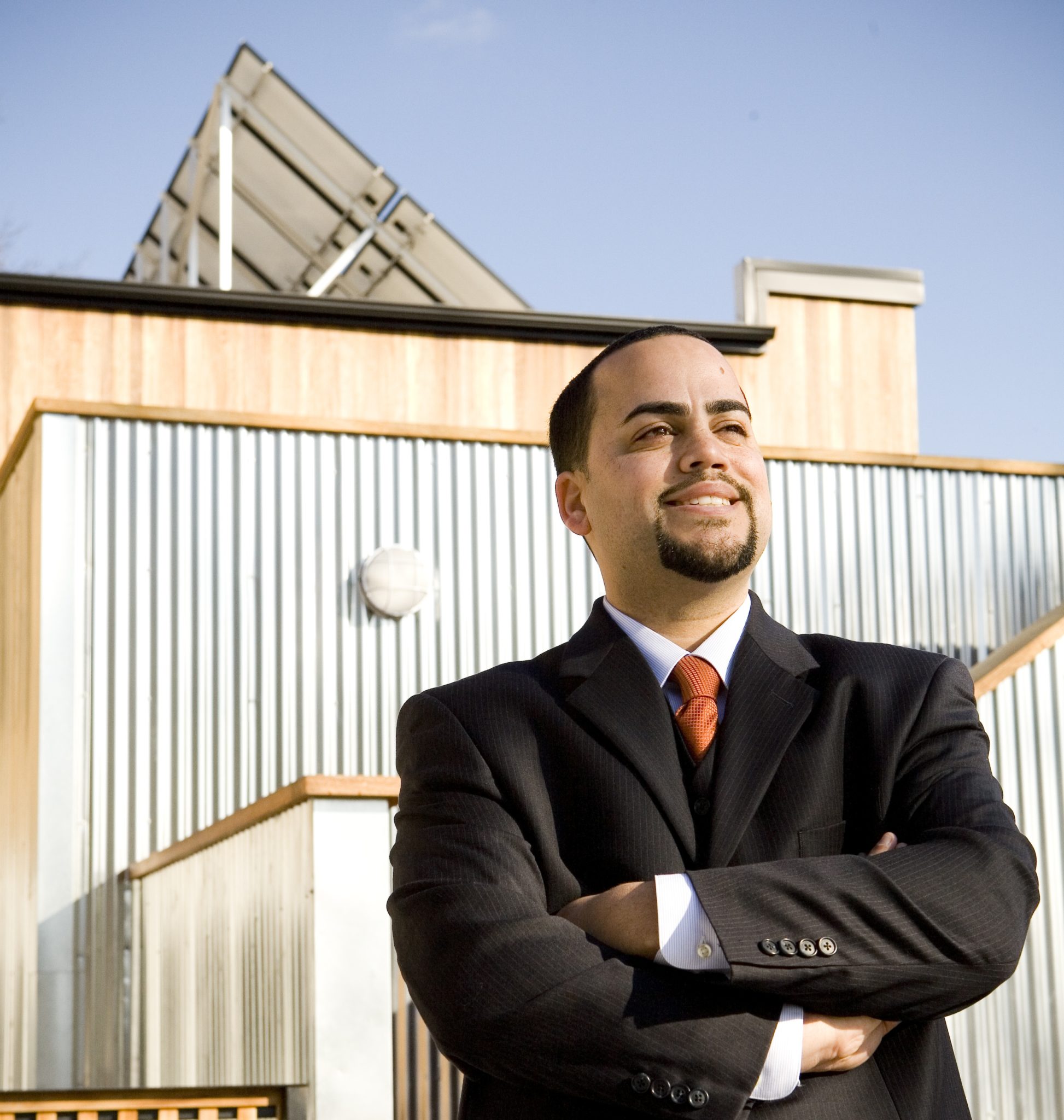 For over 18 years, I have been involved in all aspects of the renewable energy industry, as a public official overseeing a state renewable program, as a private renewable energy developer, and serving as an independent renewable energy consultant, representing clients participating in this outstanding market. Through all my experiences, one thing has become evident: the client, regardless of its size or industry, could benefit from a streamlined renewable energy procurement process that can be managed with existing in-house capabilities.
Despite renewable energy being an affordable and accessible source of power, the procurement process is often complicated, time-consuming, and requires a skilled solar consultant. As a result, many public and private organizations of all sizes are missing opportunities to use solar power to lower operating costs and benefit the environment.
These challenges prompted me to create the Copacity solar platform to automate and simplify the renewable energy procurement process for energy users and project developers. Copacity embraces the need for automation and customization while delivering clear project metrics. The result is a process that is both simpler and more cost-effective for our clients.
Contact Copacity now to learn how we can help streamline the renewable energy RFP and bidding process for energy buyers, renewable energy developers, and energy advisors across the United States. Reach out to our team and discover how we create a tailored approach to maximize the energy savings from your next project.